This post is WAY over a month late but we've been busy with school, shoots, and traveling. Mya's Birthday was held at the Water Conservation Garden. The venue was perfect – it had pathways and interesting exhibits to look at and a covered picnic area for us to have our party.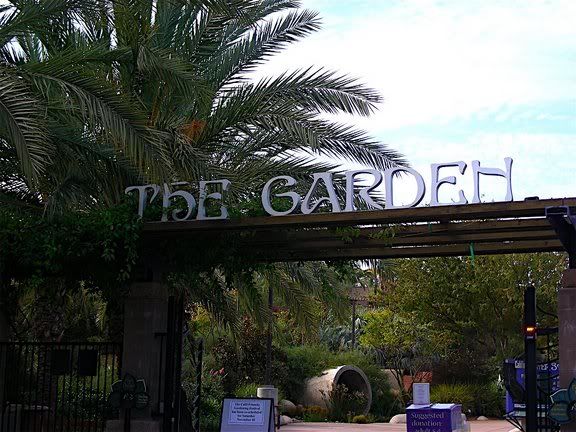 Remember the inspiration for my centerpieces (see previous post)? Well, here are the results. One week prior to Mya's party, I planned a tea party at church where we used the wheat grass strips for the centerpiece. I purchased the grass at Sungrown Organics in the South Bay Area of San Diego. I planned ahead so that I can preserve the grass for one week to re-use at Mya's party. We had 5 picnic tables and I created the centerpieces based on the different areas throughout Candy Land. The leaves were made out of tissue paper.
Peppermint Forest:

I glued starlites and mini canes on a stick.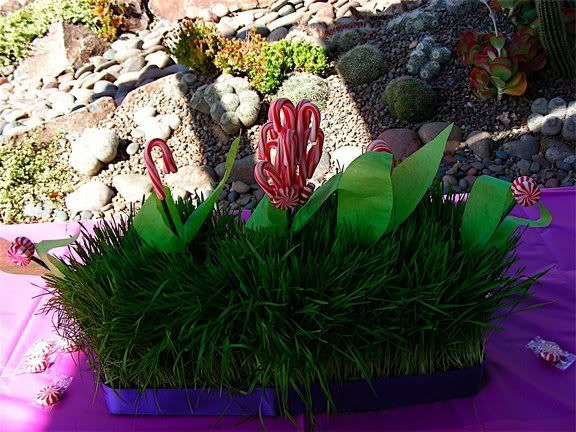 Lollipop Woods:

I elongated the lollipop sticks by using floraltape to connect them together.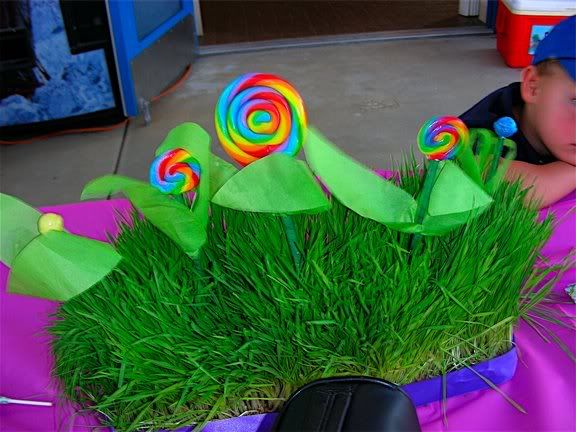 Gumdrop Mountains:
I glued gumdrops to styrofoam balls and skewered a few. The center ball was too heavy to stand on it's own. So we just let it sit in the grass.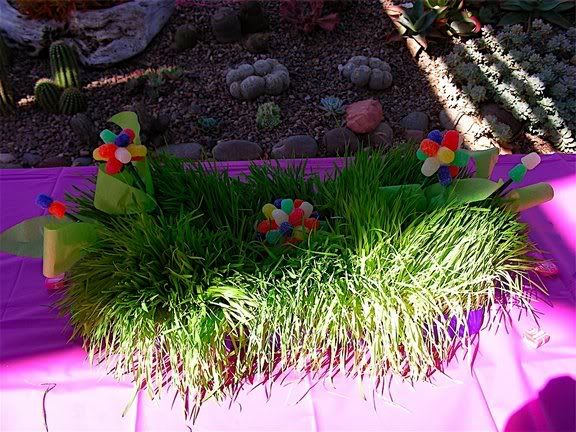 Chocolate Swamp:
I melted the back of the chocolate bars and candies and sandwiched a stick between the two. The smaller sticks are tootsie rolls. I covered the chocolate with saran wrap so that they don't condensate and turn white.
Overall, I think the grass needed a trim before I used them. They were a little dry but I didn't want to waste them. After the party, I fed them to our cats. They loved it.
Giveaways:
We played a real-life Candy Land game. Guests were given a map of the garden and they were to find certain spots to collect their candy and get their map marked. Once their game pieces were complete, they got their party favor.
This is the prize/gift bag that we handed out. I totally scored on the tiny lunchboxes – they were at the $1 spot at Target… for 75% off!! 25 cents a piece is not bad for a lunch box! I added a whistle, bubbles, stickers and a lollipop-shaped sugar cookie to the bag.
The famous cake…

Mya was so excited to get her cake. We kept it at home during the first part of the party to keep it a surprise. We ordered a plain Costco sheet cake and I just added the decorations. Thom took some time-lapse photos while I was decorating the cake. I made all the non-candy pieces a few days earlier.
Here's a photo taken by my friend, Kris, from San Diego Family Photography:
I made Mya's party dress for Halloween and she has worn it 6 times between mid-October through Mid-November. She wanted to be the Fairy Lolly from Candy Land:
I made her crown out of pipe cleaners and Christmas ornaments. Her wings are bent hangers, tulle and painted fabric. I found a regular dress pattern and modified the sleeves and trim to look like Lolly's outfit. The lollipops are fabric that I painted with acrylic paint and appliquéd onto the dress.
The party turned out well. Everyone liked the theme and food was yummy (thanks Dad!).