Summer break is not a break! July was pretty much shot for me, posting-wise. With work, attending out of town convention, hosting a dinner party for a visiting priest and having my in-laws over, I really haven't had time to get on here and post what I've been up to. But, I do have some things lined up and I've been playing with a borrowed camera lens (for better pics). So hopefully the future posts will look a little better. (Hey, I'm still learning and getting lots of tips from seasoned photographers.)
My sister is having a baby next month and we celebrated with a shower this past weekend. After consulting with my sister, and considering that this is her 3rd child, we decided to avoid a "cutesy baby-ish" shower. I thought a "Big Top Baby" theme would be fun, since they didn't know what the gender of the baby will be (baby was not cooperating during the ultrasound). I gathered a lot of ideas from various places on the web and while not over-the top, it was a fun way to celebrate. A few of my friends and I put this all together. Many thanks to Aileen, Arylnn, and Andreana for their help!! Below are some of the pics.
BABY banner
My friend, Arlynn made this adorable banner. She had two parties back-to-back to plan for — her daughter's Sweet 16 (the night before) and my sister's shower —All after a Vegas trip to celebrate her anniversary.  What a superwoman!
The Cake Table
Arlynn made the popcorn centerpieces behind the cake. They doubled as prizes for some of the games.
Close-up of the cake
My sister requested "Chinese Bakery" cake so I ordered one without the typical roses and added the decor.
Little "Popcorn" Cupcakes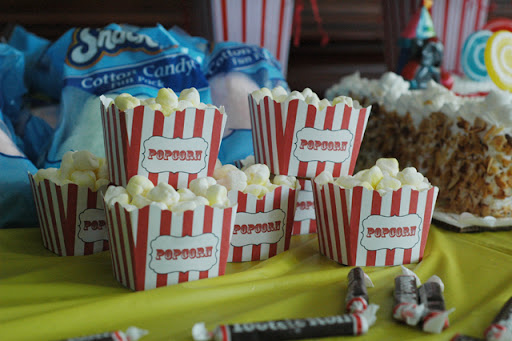 My sister's sis-in-law, Andreana, helped to make the popcorn boxes. I created the template and graphics in Illustrator and she helped to put it together. The "popcorn" is marshmallows with an "X" sliced on top, then sprayed with yellow food coloring.
"Sno-Cone"Cupcakes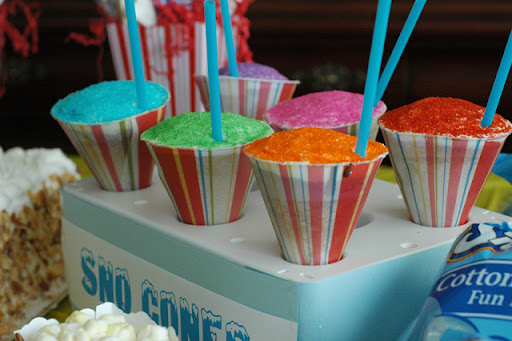 The batter was baked in the cone, frosted and sprinkled with colored sanding sugar. I wouldn't recommend baking the cupcakes in the cone. It was a mess, some cups leaked, and the batter didn't cook evenly. I think the best way would be to use a large muffin tin to bake the cupcakes and then drop them in the paper cones.  The stand is an icing bag holder.
Party Favor Table

These were glycerin soaps with vinyl fishes inside, made to look like a fish prize from the "fish bowl" game at the carnival. My nephews' Betta fish bowls were perfect as a prop and backdrop.
Take-Home Fish Party Favors
These were made with clear glycerin soap, poured into a plastic bag, with a vinyl fish placed inside. This is definitely a 2-person project. Aileen and Arlynn both helped to make this. One held the bag, the other poured and placed the fish. Some fish "died" in the process of making them (they were laying on its side and on the bottom of the bag).  We figured that those carnival fish don't last long in real life anyway. I guess that once you start using the soap, they'll eventually perk up, right? The tag number has the date of the party and on the back were the shower details.
FOOD
Dad cooked his famous Filipino/"Med's creation" dishes. As usual, it was very tasty and enjoyed by everyone. YUM.
The party was fun! It wouldn't have happened without a lot of help. In addition to dad cooking, my sister's mother-in-law contributed to the desserts, Andreana brought kid-friendly food and salads, and Aileen helped to decorate before the party. Because of the party was co-ed, we did "Minute to Win It" games instead of typical baby shower games. It was a blast!
Girl or boy? I'm thinking the baby is a girl, but we'll see next month!