It's been a while since I've made "mini desserts."
I signed up to bring treats for my Catholic Daughters meeting and had mini tarts in mind. I like making small portions of dessert for several reasons: 1. You don't need utensils. 2. Most people only want a "bite" of dessert. 3. When there's several people bringing desserts, you want to try all of them and not stuff yourself on one, then regret not trying any other. Well, the last one might just be a personal preference. There's no denying that I love desserts and would like to taste as many as possible.
Our new pastor was our special guest and the only thing I heard was, "no coconut." So that threw out my idea of making mango tarts with coconut shortbread crust and my "almond joy" tarts with a coconut crust (I'll have to post that recipe). It's been hot and muggy lately so I decided on making lemon meringue tarts. Lemon is quite refreshing and not too heavy—even when you load it up with a stick of butter.
RECIPE AT THE BOTTOM OF THE POST
Let's talk lemons…
Everyone talks about Meyer lemons and say how it's "the best for this such-and-such recipe." Meyer lemons fall a little on the sweet side (almost orange-like), and may be a little too sweet (yes, there is such a thing). Especially for a little tart that needs to yell, "Hey I have lemon in here!" The proportion of lemon filling to shortbread crust and a sweet meringue is a little on the lower side so I needed to pack as much lemon flavor as I could. Hence, I used a run-of-the-mill, non-Meyer lemon.
The Filling:
To make a lemon-packed filling, I made a lemon curd-based filling versus a regular lemon filling that is usually watered down. While lemon curd is slightly thick, it's not thick enough to hold itself as a pie filling. So to help thicken it, I added a bit of corn starch. The ingredients for the filling are simple – egg yolks, sugar, salt, cornstarch, lemon juice, lemon zest and butter.
The sugar is combined with the yolks first…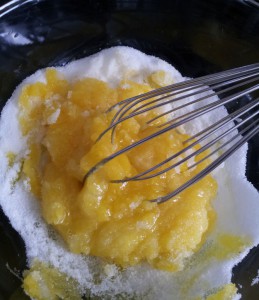 Then a mixture of the cornstarch and lemon juice are whisked in and placed over a double boiler until thickened.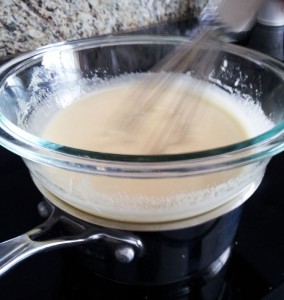 Take it off the heat and whisk in pats of butter until combined.
The Crust:
I just used a shortbread crust. It's easy. It's flaky. It's not too sweet. It's comforting. 'Nuff said. This is so easy to make – just combine the ingredients in a food processor…
Then press a heaping teaspoon of dough into mini pie/tart pans. A mini cupcake pan will work too.
Prick the dough with a skewer and place it in the freezer for 15 minutes before baking.
The Meringue:
Since I'm only using egg yolks in the filling, I saved the whites for the meringue. It's easier to separate the egg whites when it's cold and you get better volume when the whites are room temp. So make the egg separation your first step. I like using my clean hand to gently separate the eggs through my fingers. (Hands are your best tools!) Be careful not to get any yolks/fat in your meringue or you will lose volume. To remove fat from your bowls and whisks, wipe them down with a little vinegar. You can keep the whites covered and set aside to get it to room temperature.
My proportions for meringue are 1 large egg white to 1/4 cup of sugar. I also add cream of tartar for stabilization. I beat the whites, cream of tartar and sugar over a double boiler until the sugar is dissolved then transfer it over to a mixer and beat on high until it fluffs up. Since the meringue will be torched, and not placed in an oven, I opted for the double-boiler method to make sure that the egg whites are slightly warmed so not to get anyone sick.
Putting it together:
Fill the crust with the lemon filling using a teaspoon. You're not going to need much. Using a pastry bag with a French tip, pipe a swirl starting from the edges of the crust to the center. Make sure you pipe on the crust so that the meringue doesn't slide off.
Then using a torch, brown the tops of the meringue.
You'll definitely be the hit of the party when you make this!
After the meeting people were gushing over these tarts. I don't think our pastor ended up having a bite. (So much for making non-coconut stuff!) Well, I'm glad I made these and will keep them in the dessert repository.
I'm kind of craving them now.
When's the next potluck?!
Mini Lemon Meringue Tarts
Little meringue tarts boasts of big flavor thanks to the lemon curd-based filling.
Ingredients
For the Shortbread Crust
2

c

flour

1/4

tsp

salt

2/3

cup

Confectioner's Sugar

1

cup

of cold unsalted butter

cubed (2 sticks)
For the Lemon Curd Filling
5

large egg yolks

1

cup

sugar

1

tbsp

corn starch

lemon zest

use whatever you can get from your lemons

1/3

cup

fresh squeezed lemon juice

1/2

cup

unsalted butter

1 stick
For the Meringue
5

large egg whites

room temperature

1-1/4

cup

superfine sugar

1

tsp

cream of tartar
Special Tools
Mini tart or cupcake pans

french piping tip, piping bag, handheld blow torch
Instructions
Shortbread Crust
In a food processor, place flour, salt, and confectioner's sugar and pulse until combined. Add butter and pulse until it becomes a coarse meal and starts to come together. Put one heaping teaspoon of dough in a mini tart pan or mini cupcake pan and press along the sides. Prick dough with a skewer or tooth pick then place in the freezer while the oven is preheating.

Preheat oven to 425°F then bake for 10-12 minutes until edges are brown. Cool on a baking rack.
Lemon Curd Filling
Fill a small pot with 1 inch of water and simmer. In a non-reactive bowl (that fits over the pot), whisk together yolks, sugar until combined. Dissolve cornstarch in lemon juice then add to the yolk and sugar mixture. Place bowl over the pot and whisk until thickened. Once thickened, remove from heat and whisk in lemon zest and butter, one pat at a time, until it's combined with the filling.
Meringue
Whisk together egg whites, cream of tartar and sugar over a double boiler until the sugar is dissolved (if using a candy thermometer, it would read around 155°F-160°F). Using a whisk attachment on a stand mixer, beat on med-high until stiff peaks form.

Fit a piping bag with french tip and fill it with the meringue.
Assembly
Fill lemon filling level with the tart.

Starting from the outside and moving towards the center, swirl meringue on top of tart, making sure to fill over the edge of the crust (so it won't slide off).

Brown tops of meringue using a handheld blow torch.
Recipe Notes
Waste not! You'll probably have extra meringue. Use them to make meringue cookies - You can spoon or pipe it onto parchment or a silicone mat and bake at 200°F for two hours.