Melissa's Produce gave food bloggers another challenge. This time the rules have changed. We were given specific ingredients to make one savory and one sweet dish.
On the savory side: Peeled and steamed baby beets, peeled and steamed baby potatoes, and peeled and steamed chestnuts.
On the sweet side: Korean pears, red Christmas Crunch table grapes, and mandarin oranges.
I'll be the first to admit that I thought I had it all figured out but stumbled and dare I say, "failed" on the challenge.
Let me start off with my "fail." I did some research on what I could make with beets and saw a gorgeous photo of a terrine with beautiful layers of different colored beets. "Why not substitute potato?" I thought. And so I did. It turns out that this recipe would work better with roasted potato and not steamed potatoes. On top of that, thinking I was pretty clever, I cut the beets and potatoes using an egg slicer (since I was holding a crying baby in the other arm). Well, thick slices made this terrine chunky and crumbly. I have to say, it didn't taste bad, though.
Folks, I present to you my beet and potato terrine with herbed goat cheese and cashews:
It looks more like a slab of oddly colored bacon, if you ask me. I'm hoping my fellow bloggers fared better than me!
My more successful dish is the Korean pear and grape upside down cake. I had to make this twice. The first time was more experimental with the hopes of it being the final recipe. I made it the way my dad makes pineapple upside down cake — sprinkle brown sugar at the bottom of a pan, place fruit slices, then cover with yellow cake batter. While this version didn't taste bad, and the texture was great, it was lacking that pear flavor.
Korean pears are very watery and subtle in flavor. Since my daughter has shown interest in cooking I asked her what she would do differently. She said, "Maybe you should cook the pears. Add some sugar and make it all caramel-y and stuff." That kid is smart I tell ya! It was exactly what I had in mind. I cooked down the pears and grapes in butter and brown sugar to release the water and intensify the pear flavor. The brown sugar made a great caramel sauce to go on the bottom of the pan. I also mixed in the pears and grapes in the batter.
And what about the mandarin oranges, you ask? I made a mandarin orange creme anglaise. It complemented the cake really well. I won't post this recipe until I can stand behind it 100%. So I'm going to work on tweaking this recipe a bit more. In the meantime, I'll just give you some eye candy.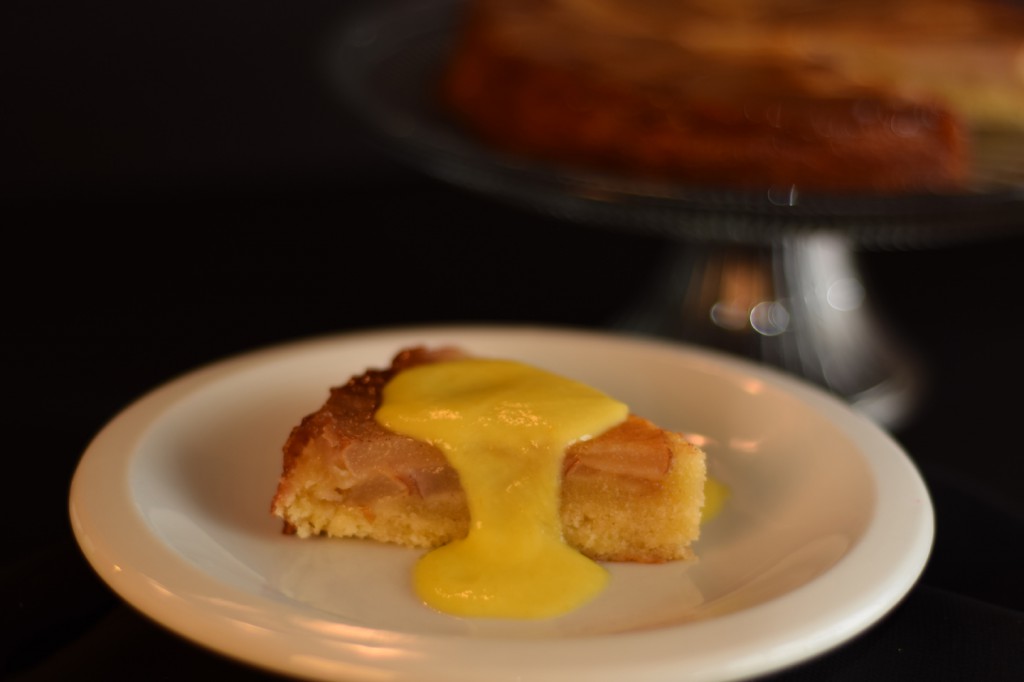 Thanks again to Melissa's Produce for providing the produce for this challenge! See how other bloggers did by visiting the links below!