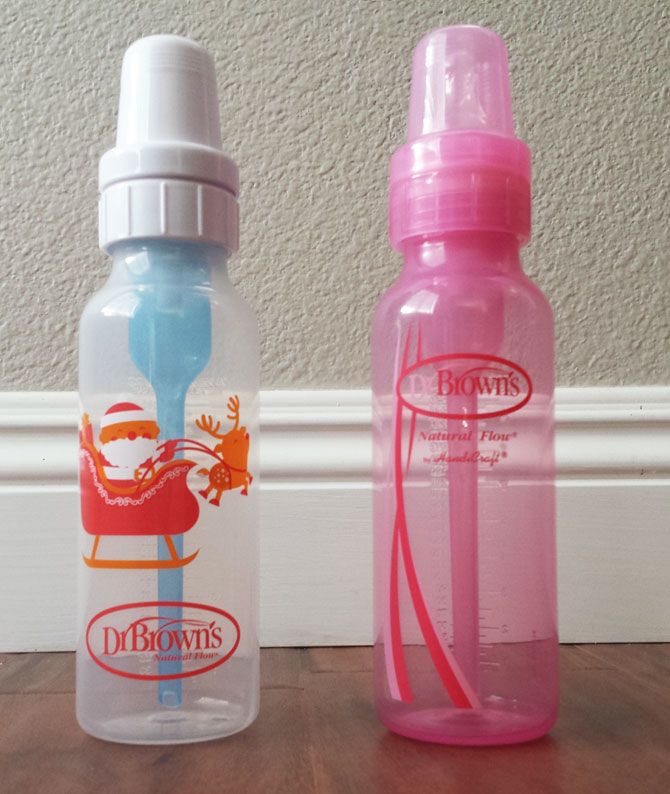 You would think that at child #3 I'd have everything about raising an infant figured out.
Well, not so.
Sure, I know what to expect behavior-wise. I'm a pro at nursing. Diaper blow-outs don't phase me. But one thing I never got down was bottle-feeding. This has been quite the problem with my other two kids and it really tied me down. Everything I did revolved around my nursing schedule. I had a hard time leaving my babies at my parents' house, with a sitter, and even with my husband because I knew the babies struggled with a bottle.
I was hoping number 3 would be different. I even invested in a fancy $18 bottle thinking that my previous bottle choices were the culprit. Well, Aria didn't take too well with the fancy bottle. But I was on the right track.
Enter Dr. Brown's…
I've heard of Dr. Brown's bottles when I had my first child over ten years ago. A few of my friends swore by the bottles, saying that it helped their colicky babies. I was desperate to find a good bottle and have already tried 3 or 4 types which were all rejected. I considered getting a Dr. Brown's bottle but the last thing I wanted to do was drop more money on another bottle that my baby might reject.
It must have been fate that I was recently contacted to review Dr. Brown's bottles. I had an upcoming trip to deliver Christmas gifts to an orphanage in Mexico for their "Los Reyes" celebration in January. I knew I couldn't take the baby on this trip and had to leave her with my husband for the 6 hours I'd be away. So I got the Dr. Brown's bottles ready and crossed my fingers that she would take pumped breastmilk.
To my pleasant surprise, my husband reported no problems with the bottle feeding! I thought it was just a fluke and had to see for myself. So I warmed up a small amount of milk and fed the baby from the bottle. Sure enough, she took it with ease. Still, there was a little doubt in the back of my mind. A few days later I had my parents watch the kids for a few hours and sent a bottle with the baby. When I picked them up, the first thing my dad said was, "That bottle is so much better than the other one! She drank all her milk and she didn't spit any of it out." That's when I knew that it was the bottle that made the difference.
I can't tell you how relieved I felt. I have a newfound to see how their products work. You can also follow them through social media.
Disclosure: I was given Dr. Brown products to review and to offer for a giveaway. I do my best to give my honest opinions and share what would benefit my readers.