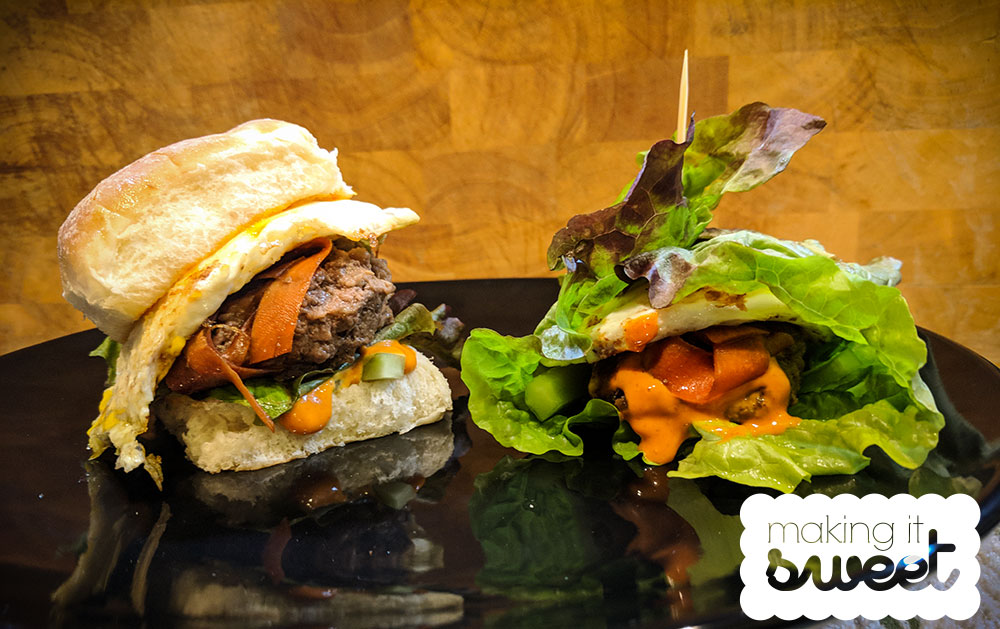 The first time I had Korean food was during a field trip with a Chinese and Asian cooking class that I took with my friends almost 20 years ago. Our instructor took us to Zion Market in San Diego. Back then, the market was located in a building that crammed as many food eateries as they could and accommodate a supermarket. I was already miffed at how difficult it was to find parking in its tiny lot and didn't feel like eating. I felt lost while perusing unfamiliar dishes so our instructor recommended a place that served dolsot bimbimbap. My attitude instantly changed when my food came. What I basically ordered was rice with sauteed vegetables and sesame-soy marinated beef topped with a raw egg and served in a hot stone bowl. The dish sizzled and I was directed to "mix it up with that red paste" (which I now know was gochujang). It was delicious and a totally different experience of Asian food than what I was used to. It was kind of fun.
Zion Market has since moved into a defunct department store building with a much bigger parking lot, a brighter and more spacious food court, and some smaller specialty stores. But I have never gone for the food court — just the groceries… and Paris Baguette (yum). Oh, and my daughter is SO into K-Pop that she spends a lot of her time (and money) at K-Pop Fancy.
Let's get right to the food…
I first tried my hand at beef bulgogi when my husband bought some thinly sliced beef ribeye at Zion Market (not knowing what to do with it — he just thought it was a good deal). I looked up recipes online and it called for a similar marinade – soy sauce, rice wine vinegar, sesame oil and something sweet (honey, sugar or Asian pear). I read some sources that said that the Asian pear was meant to act like a tenderizer but with pre-cut beef ribeye, it didn't seem necessary. I added it anyway because I liked the flavor. After a few tries (and trying to jog my memory about how it was supposed to taste), I got pretty close to the flavor I wanted but I'm still trying to perfect it since I don't eat Korean food as often as I would like.
Recently, Chung Jung One reached out to me and sent me a few bottles of their gochujang sauces. Gochujang—a staple in Korean food—is a fermented chili paste made from chili, sticky rice, and fermented soy beans. It's hard to come by gluten-free commercially-made gochujang. My husband's aunt made a gluten-free version for us. But if you don't have an aunt to make some gochujang for you, Chung Jung One offers gluten-free and vegan sauces online, which is what I used in this recipe.

The Bulgogi Burger
When I saw that I was given a gochujang mayo, I instantly thought of burgers. Most recipes I found online barely touched on making the burger taste like bulgogi and instead focused on the condiments to make it more bulgogi-like. I opted to season the beef with the typical marinade – soy sauce, sesame oil, rice wine vinegar, pepper, sugar, honey, garlic and green onions. I eliminated the Asian pear mainly because so little would be needed for this recipe that it wouldn't be worth the expense or the hunt (it can be hard to come by). To make this a truly gluten-free burger, substitute coco aminos for soy sauce.
I like my bulgogi a little on the sweet side but thought that this burger would burn if I had it any more sweeter. I'll have to see how far I could push the sweetness level. This is a work in progress but it's a pretty solid start that I'm confident enough to share it with you.
For my accompaniments, I sauteed carrot strips in the burger drippings, sliced strips of fresh cucumber, and added a fried egg. My only condiment was the gochujang mayo—and it didn't really need anything more. The mayo really pulled the burger together. I didn't have anything "pickly" on hand but thought that this would be great with some pickled daikon or Asian vegetables. The only bun I had at the time were dinner rolls so the burger patties were sized down to sliders. Since I'm cutting my carbs, I wrapped a second burger with lettuce, which worked out really well since bimbimbap can be eaten as a lettuce wrap.
For a truly gluten-free gochujang mayo, I would suggest mixing the gluten-free gochujang with gluten-free mayo until it meets your spice level.
I'm coming around to adding gochujang sauce into my regular condiment rotation. It hasn't quite replaced sriracha for me but I find myself starting to use it more and more. Hopefully you will appreciate the unique umami flavors, too!
Bulgogi Burger (with Gluten Free Option)
Ingredients
Burger
1

lb

Ground Beef

80/20

2

tbsp

Soy Sauce

GF Coco Aminos

1

tbsp

Rice Wine Vinegar

1

tbsp

Sesame Oil

3

tbsp

minced green onions

2

cloves

minced garlic

1

tsp

sugar

1

tbsp

honey

Pepper to taste
Accompaniments*
4

Buns / Lettuce for "protein style"

Lettuce

Sauteed carrots strips

optional

Pickled Asian Vegetables

optional

Cucumber strips

optional

Fried Egg

optional

Gochujang Mayo**
Instructions
Mix together all burger ingredients and allow it to absorb for 10 minutes.

Form burger into 4 patties

Grill or fry in a pan until desired doneness

Spread Gochujang Mayo on buns and top with accompaniments
Recipe Notes
*Contrasting flavors and textures is fantastic for this dish. I like the creaminess that an oozing egg adds to the burger followed by the crunch of a cucumber. Pickled vegetables can help cut through the richness of the burger, too!
**Make gochujang mayo with gluten-free gochujang mixed with your favorite or home-made gluten-free mayo. Chung Jung One offers a gluten-free gochujang sauce.
Disclosure: This post contains affiliate links where I get a tiny commission if you choose to purchase anything. Chung Jung One sent complimentary samples so that I may use their products in my recipes.