October 1, 2020
SuperM Comeback Cake – Super One
My step-by-step process of making a 3-feature cake to celebrate the latest comeback for the K-Pop group, SuperM.
I have been anticipating this SuperM comeback. Having seen them live this past January, I knew that they would put out something amazing on their next album. My daughter wanted to throw a small get together for this comeback to unbox the albums together and watch a replay of one of the Beyond Live concerts. (Don't worry Covid police, it was only two friends.)
Making these cakes have been a creative release. I've been incredibly busy programming several projects and making cakes forces me away from the screen and keyboard.
The Concept
The concept of the cake came from the two videos that came out before the album release, 100 and Tiger Inside.
The final part was the title track, One (Monster & Infinity):
The Process
The first layer featured the "new" SuperM logo that looks like a car emblem and the second layer had a cave with a tiger inside.
I tried my best to find a toy tiger figure but came up short. I did the next best thing and made a tiger head out of home-made marshmallow fondant. I'm not a sculptor by any means and my tools are pretty rudimentary (a metal chopstick and a toothpick).
I painted on the stripes with black food coloring and made eyes out of some large nonpareils that I painted with blue food coloring.
The "cave" was made from dowels glued onto a foam board and covered with fondant. I painted the blue with food coloring. A note on painting with food coloring: I mix food colors with vodka since the alcohol evaporates. If you use water, the fondant breaks down and becomes sticky.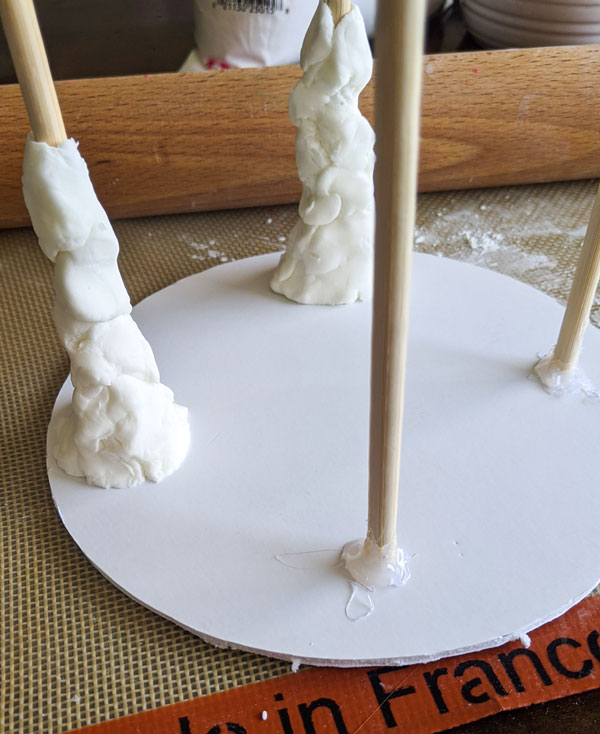 The top layer was a challenge since it's hard to gather materials without knowing what the video would look like. Had I had more time, I would probably filled the top with little black pyramids, but instead I chose to make the stage area and feature the "breakthrough" part of the video using candy.
Red rock candy was hard to find so I made my own candy using water, sugar and corn syrup with red food coloring.
I poured the mixture onto a silicone mat to harden. I took out most of the air bubbles by taking a torch to the sugar before it hardened.
Once hardened, it was too thick to break by hand, so I covered it with plastic wrap and smashed it with a meat tenderizer. In hindsight, I should have used parchment since most of the candy stuck to the plastic wrap.
What I've learned
I felt like I was winging this whole cake. This cake was fun, although I know I could have refined it a bit more had I more time. I was literally finishing the top layer when one of my daughter's guests came over.
I didn't have the materials that I thought I would have. My frugal nature forced me to be creative and use the things that I did have or could make at home.
What's next?
Well, there's a huge comeback (literally) in a little over a week. I've been seeing teaser photos and it's pretty exciting. I'm not sure how it would be translated to dessert.
However, it's birthday season in our household. My husband just celebrated his birthday and my three kids birthdays are each two weeks apart. So we'll see what I can come up with.