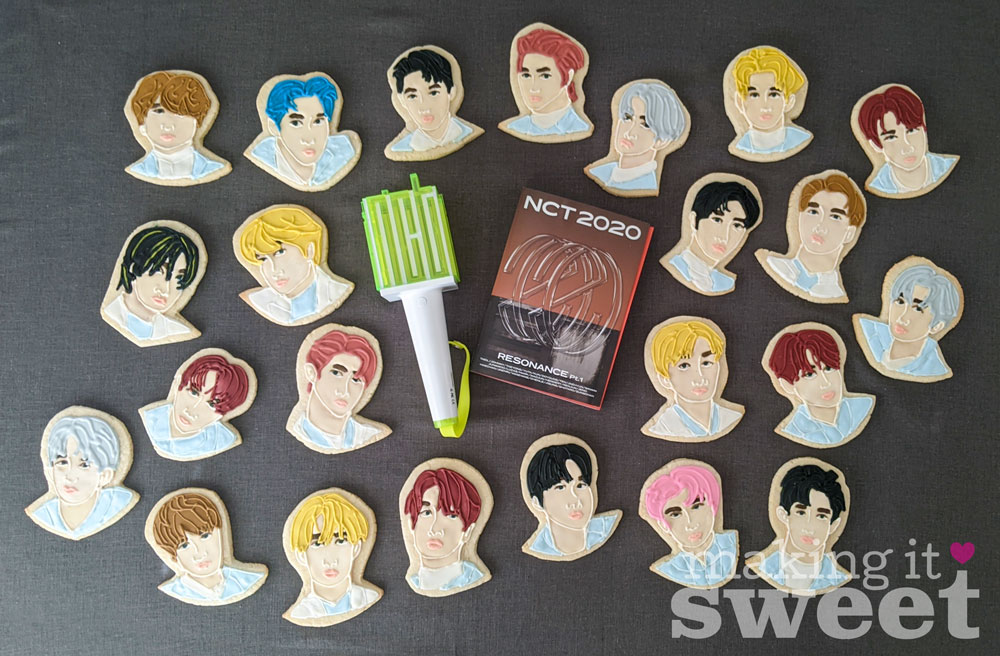 October 23, 2020
NCT 2020 Comeback Cookies – Resonance Pt. 1
I made "comeback cookies" to celebrate NCT 2020's new album, Resonance Pt. 1.
Welcome to an episode of "It Seemed Like a Good Idea at the Time" starring Yours Truly.
Why did I think I could pull this off? Because I saw something on YouTube — that's why. Now, here we are with a set of sugar cookies that took 5 days to decorate and I'm not satisfied with the result. I'm sure it would have taken less time if I blocked off some time for it, but I did it little-by-little in between work projects and taking care of the family.
NCT 2020
NCT is my favorite K-Pop group, without a doubt. Their music is experimental/diverse which makes the albums enjoyable to listen to. On top of that, they are such charismatic performers (and having handsome members helps, too). NCT is currently a 23-member group that's divided into 4 units: NCT 127 (Seoul-based), NCT Dream (young'uns), WayV (China-focused), and NCT U (rotational group that pulls members from each unit based on the song concept). NCT 2020 combines all units for their album, Resonance (the last one was in 2018 when they had 18 members).
I figured that if I were to make "face cookies" I better do it now before there are 50 members (23 is manageable). I'll admit, I didn't do a meticulous job with these cookies. In fact, I did a few of them dirty (sorry, Johnny, Jeno and Jaehyun). My recent wrist/hand issues that made it difficult to hold a piping bag and other tools and I had to let a lot of mistakes go.
I kind of felt bad not making them nicer. This group is getting me through the pandemic with their almost-daily content that makes me laugh, dance and sing. Because of them, I have walked through the grocery store with a block of cheese (because that's the queso) to make my kids cringe.
To make up for the sub-par cookies, NCT, if you ever are in San Diego I'd be happy to cook you good meal followed by a bunch of delicious home-made desserts.
On to the Cookies…
To make the faces, I traced a photo on my iPad using Adobe Fresco and then imported the files to Illustrator on my laptop for layout and sizing. After printing out and cutting each person, the cookie dough was hand-cut and baked.
My intention was to use a food marker to trace the faces but I found that most of the tips on my food markers were ruined so I had to scratch the hair, eyes and eyebrows onto the cookies. As a result, fought with light the whole time as it's not easy to see the lines with artificial light.
The faces were piped, followed by the eyebrows, eyes, hair and outfits. The photos below are the better cookies — I'm too embarrassed to show a closeup of the others.
Celebrating Creativity
K-Pop has changed my outlook on music and has made it fun again. NCT's Resonance Pt.1 album is one of their best yet. The album blends a past/future theme with songs reminiscent of 90's R&B, Beastie Boys/Run DMC – like cypher track, club music, lo-fi hip hop, and their unique units: NCT 127's experimental "noise music", NCT Dream's playfulness, and WayV's sensuality. It is worth streaming or purchasing an album (if you want all the photos and posters).
What I learned from all this…
I should plan a project like this when I have a good chunk of time over a few days to work on just cookies. But alas, that's always a challenge. I'm pretty bummed about my hand/wrist, too. As a person whose hands are vital to make a living, it's a little discouraging to be in pain. It just taught me to enjoy the process and to take breaks when needed.
Will I do this again?
Probably not.
Who knows.
Maybe.
Resonance Part 2 is coming out in November so we'll see if I do something.
Anyway, stan NCT for clear skin. You won't regret it.
Disclosure: This post contains affiliate links where I receive a small commission from purchases.