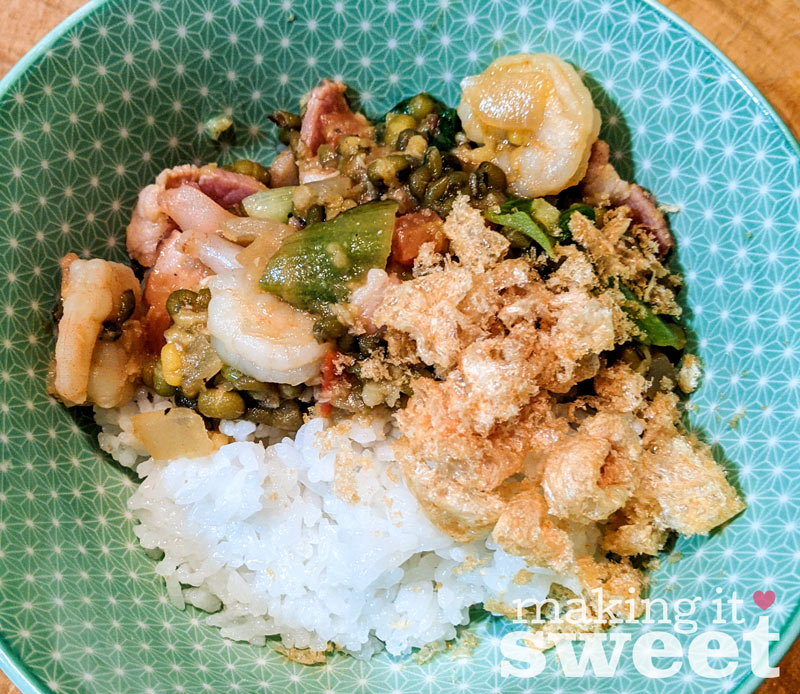 May 6, 2021
Munggo Guisado – Filipino Mung Bean Stew
Commonly known as "munggo" this hearty dish is made with mung beans, tomatoes, bacon, greens, and shrimp, making it a favorite Filipino comfort food.
Jump to Recipe
Ah, the mung bean – a tiny, olive-colored, pill-shaped bean that can be disguised in a sweet or savory dish. They're quick to cook and hearty, making it the main ingredient of one of my favorite comfort foods.
Munggo guisado (mung bean stew) or "munggo" is a mung bean dish that's stewed with pork belly or bacon, onions, garlic, tomatoes, shrimp and some kind of greens (like bok choy, spinach, or even bittermelon leaves). A garnish of crushed pork rinds gives this dish a nice texture (when eaten immediately). It's slightly salty, flavored with patis (fish sauce) and usually eaten with rice. It's a simple dish that's packed with flavor.
As with most Filipino recipes, the ingredients vary from family to family. My parents always cooked this with bacon because it's what we had on hand. Frozen shrimp was sometimes replaced with tiny dried shrimp that had more of an intense flavor. Instead of shrimp, I've cooked this with bonito flakes and it was just as delicious.
Prepare the Beans
If you plan on making this dish, give yourself about 1- 1.5 hours total. There's no need to soak the beans but you will need to boil them for about 30 – 45 minutes until the most of the beans burst and are softened.
These beans expand dramatically. I boil 4 – 5 cups of water to 1 cup of beans, keeping watch every now and then to make sure that the beans don't dry out. If you're using dried shrimp instead of fresh (frozen) shrimp, boil the shrimp along with the beans to infuse more flavor.
Prep Your Ingredients
I can't emphasize how important it is to prepare your ingredients before cooking. It makes the cooking process faster and more enjoyable. This photo shows how I keep my ingredients separated, slightly based on the order that they go in the pot.
When preparing leafy greens, cut off the ends, chop then and soak them in a bowl of water so that all the dirt falls out of the leaves. I usually use my hands to grab the greens and transfer them to a strainer versus pouring everything into a strainer. That way, you're not pouring the dirt that has fallen off the greens back on top of them. Give it a final rinse, and you should not have anything gritty in your food.
I have to peel my shrimp since I get a slight allergic reaction to the shells. But you can leave your shrimp in its shell for more flavor. If using cooked frozen shrimp, there's no need to thaw. If using raw frozen shrimp, you can thaw it for a quicker, more even cooking.
The Best Part of Cooking
This will smell so good when you start cooking… Render the bacon and add onions and garlic until softened, followed by tomatoes. When the tomatoes have softened, you add the cooked beans (no need to drain) and boil it for a few minutes.
Add the greens and cook until wilted, then toss in the shrimp last, so not to over cook it. The shrimp should only take a couple minutes to cook. If using pre-cooked (frozen) shrimp, then just toss it in after you turn off the heat, it really only needs to thaw. There's nothing worse than chewy, overcooked shrimp.
Patis – Essential to Filipino Cooking
The final step is to season with patis (fish sauce) and ground pepper. Fish sauce really elevates this dish but if you don't have it, just use salt. I haven't tried this with soy sauce, but I don't recommend it, as it would really alter the flavor of the dish.
Fish sauce varies from brand to brand (especially based on which country it's from). Start with a tablespoon and add more if needed. I use Rufina brand fish sauce — It's what I grew up with and the flavor brings back a taste of home.
Some people are afraid to use fish sauce because of the smell — it really doesn't smell good. But I tell you, when added as an ingredient, you don't even "taste the smell." Fish sauce gives a dish that extra "umph" or umami. Use the fish sauce as a condiment for this dish. You might need to add a little more when you eat it with rice.
Kain Na! (Eat now!)
Munggo is eaten with steamed rice, usually Jasmine or a short-grain rice. Please, for the sanity of Asians everywhere, do not eat this with "American-style" rice. I'm talking about the buttered or boil-in-a-bag kind of rice. I like to top this dish with crushed chicharron. It adds a fun crunch to when eaten immediately and as it gets soft, it gives the meal a little bounce. Add patis as needed and enjoy!
Munggo Guisado – Filipino Mung Bean Stew
A hearty Filipino dish of mung beans, pork, shrimp, tomatoes and greens. Measurements are approximate — the recipe ingredient amounts can be adjusted to your taste.
Ingredients
1

cup

Dried Mung Beans

5

cups

Water

1

tsp

Salt

(Omit if using dried shrimp)

8

oz

Bacon

1

medium onion, minced

3

cloves garlic, minced

1

cup

chopped tomatoes

4

cups

Baby Bok Choy

(You can use any cooking greens such as spinach, bok choy, bittermelon leaves, etc.)

1

cup

peeled shrimp* raw or pre-cooked

Patis (Fish Sauce) and black pepper to taste

Crushed Chicharron / Pork Rinds

(optional)
Instructions
In a medium pot, bring water, salt and mung beans to a boil, uncovered, on medium-high heat. If using dried shrimp, omit the salt and boil the shrimp with the beans.

Reduce heat to low and boil for 30-45 minutes. Check water level every 10 minutes, making sure that the water has not been fully absorbed. Add more water if necessary, only adding enough to level with the beans.

Beans are cooked when they slightly burst and are softened. Remove from heat and set aside.

In a large pot, on medium heat, add bacon and cook until fat is rendered out. Add onions and garlic and sauté until softened. Add tomatoes and sauté until slightly evaporated and softened.

Add the undrained beans and simmer until the stew has thickened. You can add more water if you prefer a more soupy dish.

Add bok choy (or preferred greens) and cook until wilted. Add shrimp and cook for about 2 minutes until the shrimp just turns opaque. If using pre-cooked shrimp. Turn off heat and add the pre-cooked shrimp and serve once the shrimp is thawed.

Season with patis until desired saltiness is achieved. Add pepper to taste.

Serve over steamed rice, preferably Jasmine or a short grain rice, and top with crushed pork rinds if desired.
Recipe Notes
* Reduce shrimp to 3 tablespoons If using mini dried shrimp. Dried shrimp has an intense, salty flavor.
To save time, cook rice and prep your ingredients while the beans are boiling. 
Products used: