We have an annual block party around this time of year. We have 10 different nationalities represented just on our little cul-de-sac and the variety of food is just amazing. I struggle to think of what to bring that's not your typical Filipino dish like pancit, lumpia, or chicken adobo. Since most people bring savory dishes, I thought I'd go the dessert route this year.
Turon has got to be one of my all-time favorite Filipino desserts. It's basically a banana egg roll. The banana used is a saba/plantain banana so it's a bit more firm and mild. Some people put jackfruit (langka) and coconut. But I like to stick to jackfruit since it complements the texture of the banana. The flavor is… hmm, how would I describe it…
Crunchy and sweet at first bite because of the lumpia wrapper and caramelized sugar
then…
Tender and mildly sweet on the inside because of the saba banana
then…
Fruity and almost sweet perfume-like when you bite into the jackfruit
I had to research how to to make this. I didn't quite know the technique when it came to caramelizing the outer wrapper. So I found the most common method of rolling it in brown sugar then frying and stuck to it.
So here it is…
Ingredients:
5 Saba Banana (I bought it at Seafood City but it can be found in Mexican produce stands as well)
1 can of Jackfruit (can be found in any Asian market)
20-25 pack of Egg Roll or Lumpia Wrappers (I go for the extra route just in case they tear)
Golden Brown Sugar
1 Egg, beaten
Vegetable oil for deep frying (a light-flavored oil works best)
You can use a "regular" banana but I'd stick to a more firm one since it would get mushy when you fry it.
Separate the egg roll wrappers (this was my job as a kid when cooking with dad). Keep the wrappers covered with a damp towel to keep it from drying out. Peel and quarter the banana lengthwise. You may have to use a knife to help you peel the banana. Slice the jackfruit across the grain.
Lay 1 piece of banana, 2 pieces of jackfruit at the corner end of the wrapper. Top with about 1-1/2 tsp of brown sugar.
Roll it by pulling the corner over your ingredients, then the top and bottom corners and then rolling towards the other end. Seal the end with a light coat of the beaten egg.
Make a whole bunch of them and keep them covered with a damp towel until your ready to fry them. Right before frying, slightly wet the uncooked turon and roll it in brown sugar.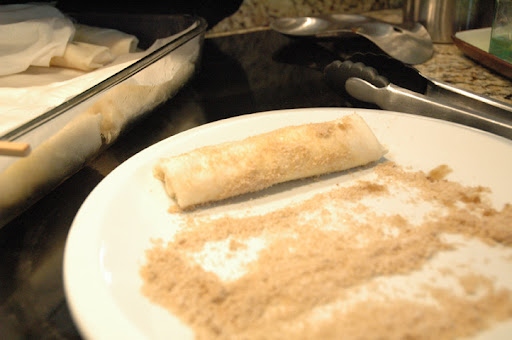 Deep fry in 350°F oil. I know it's tempting to get a lot done at once, but don't over-crowd the fryer/pan. You'll bring the cooking temperature down and end up with soggy turon (ick!).
Drain on a cooling rack. Do not drain on a paper towel because the sugar on the outside of the wrapper will make it stick.
Allow to cool enough to not burn your mouth and enjoy!!
I'm sure there's a better technique for making it more sticky and caramelized on the outside. It seemed that a lot of the sugar fell to the bottom of the fryer and didn't stick to the wrapper. But it still added to the flavor and texture. If you look at the picture above, there's only 19. I tried one of them without the sugar on the outside and it was acceptable, but did not have the sweetness texture I wanted.
It was good… not as good as the street vendors on the Philippines or from Tita's Kitchenette. But the neighbors seemed to enjoy it.