Thanksgiving is fast-approaching! I don't have any plans, which is very rare for me. Luckily, I have a Fresh & Easy around the corner to help me with my planning. My friends know that I'm a big fan of Fresh & Easy and I have made them fans as well!
Last week I invited myself was invited to a Fresh & Easy Holiday event held at Sur la Table. (Yes, I'm THAT big of a fan to hunt this event down.) I was quite excited to attend after hearing that it would be a hands-on party—which meant we would be cooking!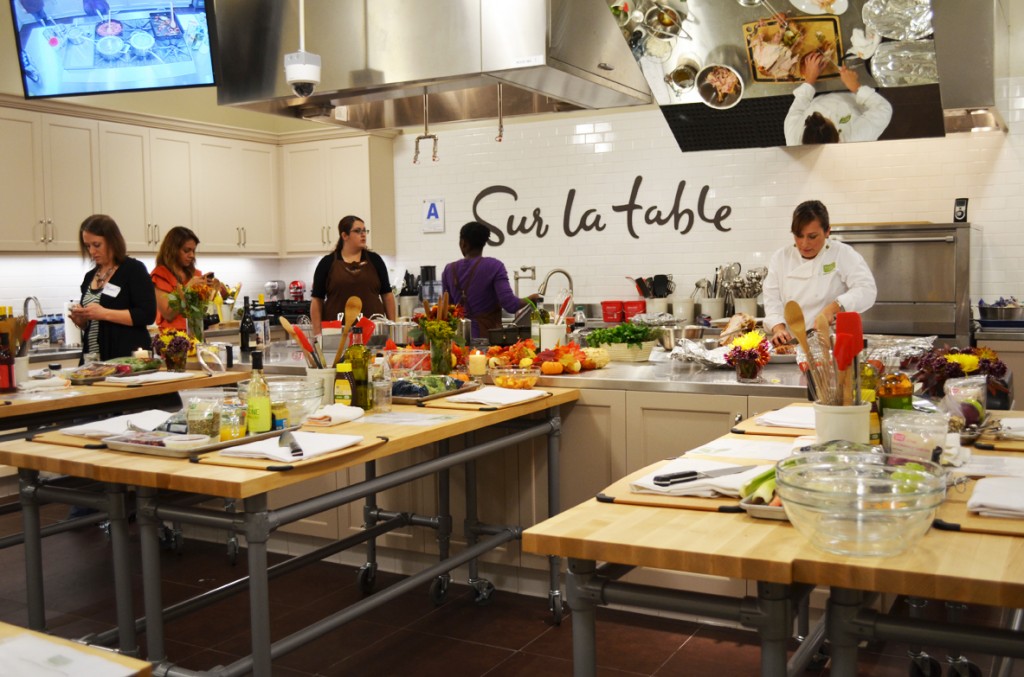 The evening began with lovely appetizers and a selection of wine and beer that they carry at their store. I didn't partake in the appetizers, knowing that I must pace myself for what's to come. But I did enjoy a glass of wine and a little beer. If you ever wondered how to set up a cheese tray, take a look – this one was beautiful:
By the way, their hummus ROCKS… and it freezes well, too!
Chef Cyndi Perez was our hostess and instructor. I've met her on several occasions—she's beautiful and so darn sweet! She even asked about my husband—what a great memory! In fact, all the F&E staff present at the event were very nice, cool people… the kind that I'd like to hang out with.
Chef Cyndi first demonstrated how to make a pan gravy out of the turkey drippings which she had roasted the turkey and vegetables in prior to the event (see recipe at the end of this post). We all had a great view, even from the overhead TV — it was like watching Food Network!
After the demonstration, we were ready to start making our salads. Each station was equipped with tools, ingredients and a recipe. 
There was a different salad recipe for every station. The salads were meant to compliment the heaviness of a Thanksgiving dinner.
All the salads were tasty and are easy to modify to your palette.
Next were the sides. I assisted Chef Cyndi with the Cauliflower Gratin (recipe here). Then we were able to feast! The turkey and other sides were ready for us to eat—and did we ever!
Of course, we had to save room for dessert. Chef Cyndi demonstrated how to make Pâté a Choux (choux pastry) for éclairs this is the same recipe you'd use for cream puffs or gougéres. I've made pâté a choux before but I didn't know this trick: You can tell if you have the right amount of eggs by taking the pastry between your thumb and forefinger and separating them—you should have a "string" of pastry dough between your fingers for the right consistency.
If your pastry separates you can add another egg to get it right. Wow, you learn something new every day!
We all made our own pastry cream and ganache. You know I'm happy when I'm around chocolate (and when I'm using a well-balanced knife)!
There were pre-baked éclairs that were then filled the the pastry cream that we made. Some ladies tried their hand at dipping the éclairs in chocolate and were so proud that they made such a "fancy" dessert, it garnered applause! 
It was a fun evening cooking and hanging out with other local bloggers. I'm just tickled by the following photo since we were all on our smartphones tweeting live during the event. Ah, gotta love technology.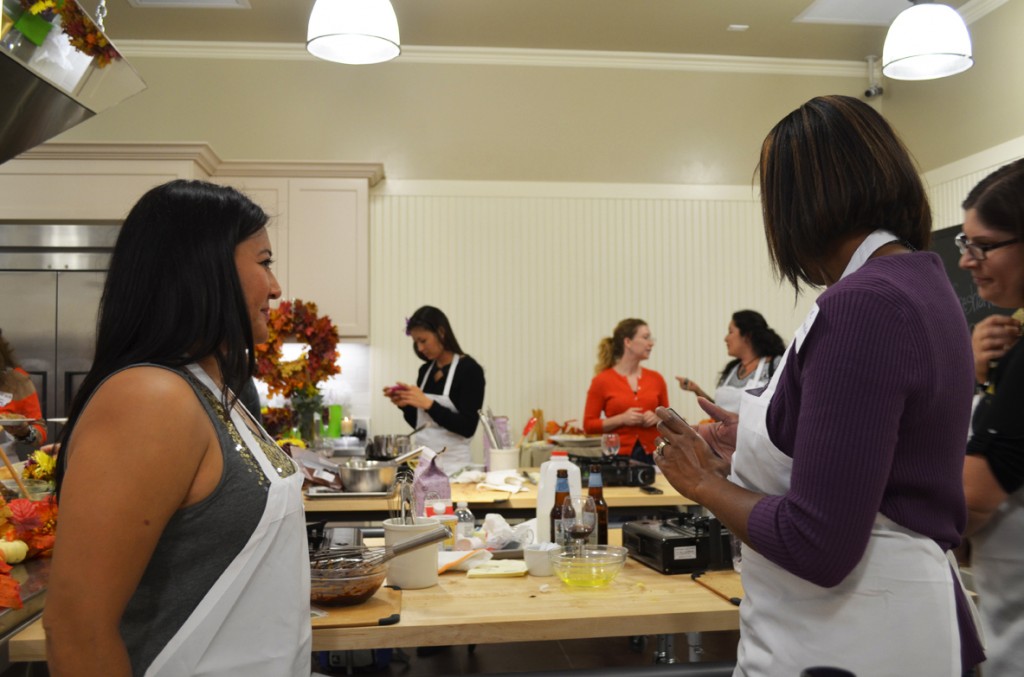 We all left with a reusable bag full of goodies to take home.
That "Huge Hunk" Bar? The fam and I obliterated it. Same with the caramel corn and the pita chips…and the Winter's Tale mulled wine (not the kids, of course)…dang, we ate a lot in such little time.
Well, that's why I run…
Thank you Fresh & Easy and Chef Cyndi for allowing me to be part of your holiday event! I had such a great time and you know you can always find me at my neighborhood F&E! 
So… back to Thanksgiving. You bet I'll be going to Fresh & Easy for my ingredients! They always have great deals and wonderful items to add to any occasion. For people who would rather take it easy this Thanksgiving, Fresh & Easy is now offering pre-order meals. You can get a turkey dinner with 3 sides and a pie for $60! They are also offering ham and roast beef meals as well. Click here to pre-order by Sunday, November 18th and pick up by November 22nd!
---
Roast Turkey Gravy
Recipe courtesy of Fresh & Easy Neighborhood Market
Serves 6 to 8
Ingredients:
6 cups pan juices from turkey (or low sodium chicken stock)
1/3 cup flour
Salt and pepper to taste
Cooking Directions: 
Remove turkey from roasting pan and pour juices through a fine mesh into a bowl. If liquids don't measure 6 cups, supplement with chicken stock.
Let the juices sit in the bowl until the fat rises to the top. Spoon out the fat and discard.
Using two burners on medium-high heat, place roasting pan on the stove top.  Carefully pour 1 ½ cups of juices into the roasting pan. As soon as juices come to a boil, scrape the brown bits with a wooden spoon until clean of any caramelized bits.
In a jar, combine 1 cup of juices with flour.  Shake vigorously until fully combined.  This is called a slurry.
Pour slurry into the roasting pan and stir constantly until incorporated, about 2 minutes.
Add remaining 3 ½ cups of juices into roasting pan and continue cooking for about 10 minutes until thickened. Remember, gravy will thicken even more once cooled.
Adjust the seasoning with salt and pepper. Serve warm.
Note: For smoother gravy, strain before serving.
Disclosure: I was treated to a complimentary holiday cooking class by Fresh & Easy which was held at Sur la Table. I was also given a goodie bag full of treats plus recipes as indicated on this site. The opinions expressed are entirely my own – yes, I'm a big fan… I can't say it enough!