Van Damme State Park was the last campsite that I booked for our trip. I chose this because of its coastal location and the great reviews. It was just a quick stop and I wished we had a little more time to explore the park as there were a few trails that led to pygmy and fern forests. One of the trails we tried to follow was closed and we took that as our cue to continue on our journey. As I went to refill our waters, I noticed a slimy, fat, yellow, thumb-sized creature at the water drain—a banana slug!
On our way out, we checked out Van Damme State Beach to see if there'd be an opportunity for tidepooling. The water level was too high and all we could find were huge logs of driftwood, piles of seaweed, and pebbles. Embedded within the fine pebbles were bits of sea glass which reminded me of Glass Beach in nearby Fort Bragg.
As we headed north to find the famous beach, we drove through the historic and charming town of Mendocino. A lot of the buildings were well-preserved and were reminiscent of a bygone era.
Glass Beach, Fort Bragg
We entered Fort Bragg and found the Paul Bunyan Thrift Store to look for jacket for the toddler. An older lady with "mermaid hair" greeted us as her first customers. We quickly found two adorable jackets for Aria for $2 each. It was a great thrift store and had we more time (and room in the van), I'm sure we would have shopped a bit more since we're big thrifters.
Fort Bragg is not a huge tourist town but is well-known for Glass Beach, made famous by Instagram-worthy pics and "Top 10" lists of places you need to see. I worried that we wouldn't find an abundance of sea glass as some reviews on Yelp said they've all been pilfered by tourists not following rules and taking glass off the beach. We questioned people coming back from the beach, some were a little disappointed that it wasn't spectacular as they thought it would be, while another person directed us to a different part of the beach that was a bit more rocky and covered in seaweed. That's where we found the motherlode!
Glass Beach is part of MacKerricher State Park, located near the site of a former city dump. Because it is a State Park, you cannot take "cultural features" including glass and plants. The glass that has deposited on the beach are tumbled remnants of the glass that was thrown over the nearby cliffs. It's amazing how Mother Nature took this trash and made it into treasure. Glass Beach was everything that I thought it would be and more! We stayed a little longer than expected, trying to "catch and release" unique glass shapes.
Redwoods
The Redwoods are divided into National and State Parks where both agencies work together to maintain and protect the park. As we headed north, the trees started to get taller. We soon saw a sign for the "Avenue of the Giants" on CA-257 and grabbed a brochure of the self-guided auto tour. We were amazed by the giant groves of redwoods and couldn't wait to take some time to hike through them a little more.
We stopped at the Leggett School for lunch. As I prepared some sandwiches, Thom and our oldest, Mya, walked around the campus to find a bathroom. They met the school custodian who had a local connection to us (she and our daughter were born in the same hospital — not in the same year, of course). The custodian said that the school teaches Kindergarten through 12th grade and they had a total of 80 students. What a small town!
Orman Ranch
As we continued north on 101 we encountered traffic from construction and landslide clearing. We kept an eye out for open campgrounds as it was getting late. All the state and national campgrounds were full so we resorted to calling private campgrounds. We passed a sign that says "tent campers welcome" and as our options became limited, we came back to that sign and called the number. We became the "welcomed tent campers" at Orman Ranch in Crescent City. The price was reasonable — $56 for 2 nights and $5 for wood. The amenities were no-frills with spacious campsites within the ranch, potable water, a picnic table, fire ring and port-a-potty nearby (or you can go to the office for a flush toilet).
Our oldest, Mya, wasn't too thrilled about the place. Thom and I thought it was unique and a little fun (plus the owners were nice — despite the list of rules they presented to us). Our site was across from the horse stables and you can hear cows mooing just down the dirt road. Once Mya found out that the place had wi-fi in the office, she didn't think it was too bad. We set up camp and had a dinner of lemon pepper salmon with quinoa and sauteed vegetables.
We ventured into Crescent City and found that there wasn't much to see or do past 9pm. So we went back to camp and tried to start a fire which smoldered and caused some ridiculous moments of us trying to "fan the flames." The wood and the air was just too moist to keep it going!
Day 2: Jedediah Smith Redwoods State Park
Our camp host, Keith, recommended that we visit Jedediah Smith State Park, take Walker Road, then swim in the Smith River. We did just that — and stopped in the National Park office to watch a movie about the State and National Parks and pick up souvenirs and a Junior Ranger packet. We arrived at the Walker Road "double lollipop" loop and Mya found another banana slug. The hunt for banana slugs and other critters kept the kids interested.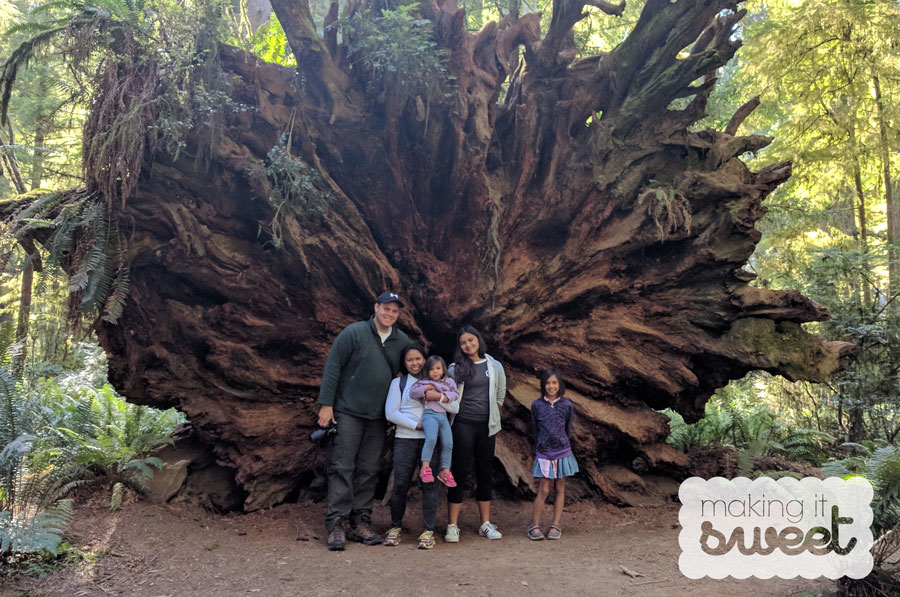 The Redwoods is a place that you have to see to believe. The age, girth and height of the trees make you feel like a little blip in the world. It's amazing to think how these trees adapted to take advantage of what would seem to be an inhospitable environment to flourish. It's also such intelligent design that the trees work together to "share water" with their root systems and survive without fertile ground by grow on downed trees. There is so much to learn and I'm sure that researchers will study these trees to use in some future biomimicry.
We explored the "nook and crannies" of the downed redwoods and found a path that led down to a small stream. The kids looked for salamanders and stacked rocks while Thom made a rock bridge to access the other side of the shallow stream.
After our visit, we drove around to find a lunch spot and access to the Smith River. After a few failed attempts, we ended up at Meyers Creek. We parked at the top of the hill, made a tuna sandwich lunch, got in our swimsuits and water shoes then headed down a steep, dusty switchback down to the beach. There were five people sunning themselves on the rocky shore and a few jumping off the big rocks across the river. The water was cold but tolerable. We waded through the crystal-clear water and watched as two young ladies competed to see who can walk underwater the furthest as they carried a big rock to weigh themselves down. One of the locals told us that hanging out here was the "thing to do."
On our way out of the redwoods and back to the ranch, the girls collected their Junior Ranger badges and I got a tip about some possible tide pools to visit in Crescent City. The ranger directed us to Pebble Beach drive between Freeman and Pacific Streets. To our disappointment, we arrived close to high tide and the beach was too difficult and rocky to navigate through.
We restocked our supplies at the nearby Wal-Mart and Grocery Outlet then had to take a long detour to our campground. I put a chocolate cherry dumpcake in our cast iron pot/dutch oven right on the campfire and made a Japanese green curry chicken with rice for dinner. We capped the night with showers and slept right as the sky got dark — at 10:00 PM.