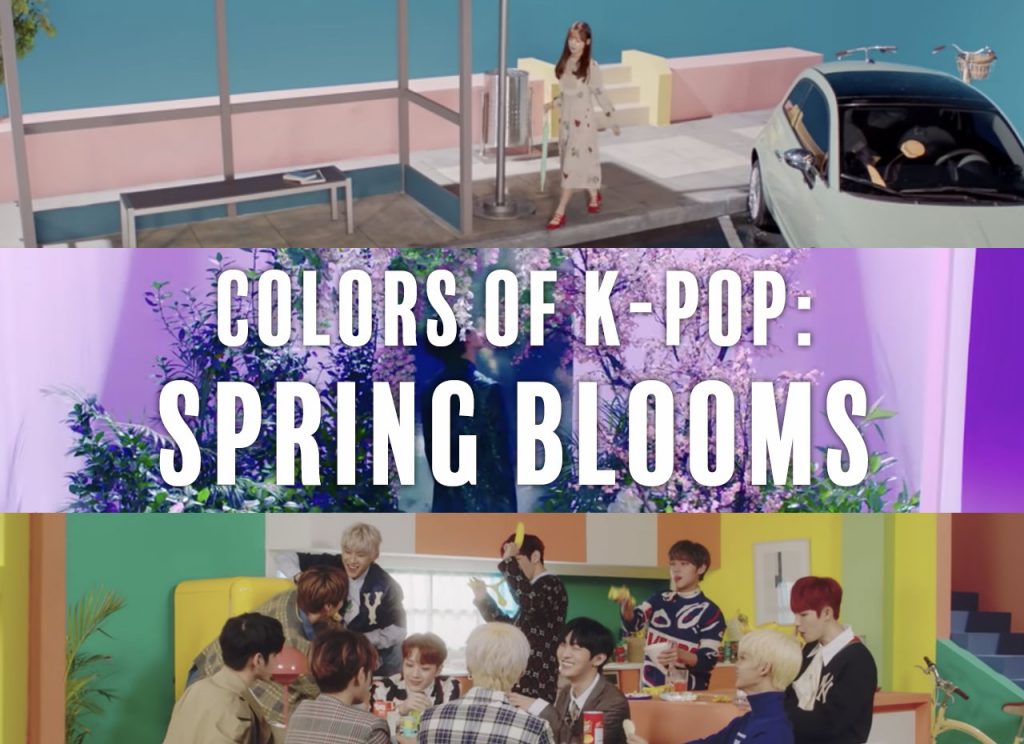 This post is a part of a series of K-Pop Color Palettes. You can find a full list in the original post: Colors of K-Pop.
Oh My Girl – Secret Garden
With delicate vocals, digital orchestration, and dreamy imagery, this video transports you to another world. The soft colors give a sense of airiness while the bolder tones give a little weight and contrast while complementing this dream land.
HEX: #498396
RGB: 73, 131, 150
HEX: #e3bebb
RGB: 227, 190, 187
HEX: #dcd1b5
RGB: 220, 209, 181
HEX: #a3a990
RGB: 163, 169, 144
HEX: #a39ec6
RGB: 163, 158, 198
HEX: #a65792
RGB: 166, 87, 146
HEX: #613f86
RGB: 97, 63, 134
VIXX Shangri-la
This video immediately entrances you with its crisp, stunning visuals. Each pause in the music reminds you to breathe and take in this beautiful video. The contrasting spring colors go from fresh to mysterious creating a cohesive bond with the lyrics and music.
HEX: #b7120a
RGB: 183, 18, 10
HEX: #1d4d9c
RGB: 29, 77, 156
HEX: #6e23bc
RGB: 110, 35, 188
HEX: #e1b64a
RGB: 225, 182, 74
HEX: #6ab03c
RGB: 106, 176, 60
HEX: #cfa3cc
RGB: 207, 163, 204
HEX: #abbccc
RGB: 171, 188, 204
Wanna One – Spring Breeze
This sentimental song contrasts playfulness with contemplation. The connection between imaginary and reality is very apparent through the color connection in this video. The muted floral color scheme in the candid group scenes coincide with a solid color in the more fantasy-like scenes.
HEX: #6fb290
RGB: 111, 178, 144
HEX: #d6a687
RGB: 214, 166, 135
HEX: #c8be24
RGB: 200, 190, 36
HEX: #5a56b2
RGB: 90, 86, 178
HEX: #cb777e
RGB: 103, 119, 206
HEX: #1d2c5a
RGB: 29, 44, 90
HEX: #76bbcf
RGB: 118, 187, 207